This database is provided by International Research Institute of Disaster Science (IRIDeS) of Tohoku University, a member of "the Global Centre for Disaster Statistics (GCDS). After the Great East Japan Earthquake (GEJE), the United Nations Development Programme (UNDP) and Tohoku University agreed the establishment of the GCDS at the 3rd UN World Conference on Disaster Risk Reduction (WCDRR) which was held in Sendai in March, 2015, and the GCDS was established in April, 2015. The GCDS is collaborating with United Nations organizations and other disaster related institutions.
Main purpose of the GCDS is to facilitate improvement of disaster related statistics of counties worldwide. On the other hand, as a university in the affected area of the GEJE, we would like to express our gratitude for the participation in relief and recovery activities from within the country and abroad, by playing the role of providing the lessons from the GEJE to assist in preparation for future disasters in each area. Therefore, we established "the statistical Database on the Great East Japan Earthquake" which shows the damage of and the state of recovery/reconstruction from the GEJE.
For the provision of statistical information on the GEJE to a wide range of people, both domestic and international, we provide an one-stop service that enables users to search for this information from this database. We provide the data in Japanese and English by integrating and processing information from national/local governments and economic organizations (Fig. 1).
In addition, we prepared "Link Collection of Japanese Statistics." This collection introduce the sites of statistical data, which are seemed to be useful for to understand and study disasters in Japan including the GEJE. It covers the sites of national/local governments and private organizations. We are looking forward to many people visiting our site.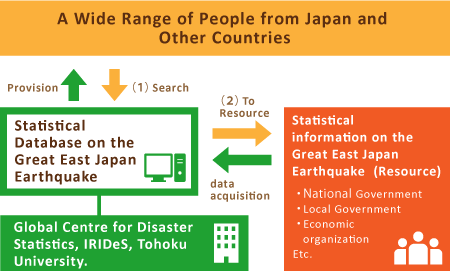 Fig.1 Role of the database